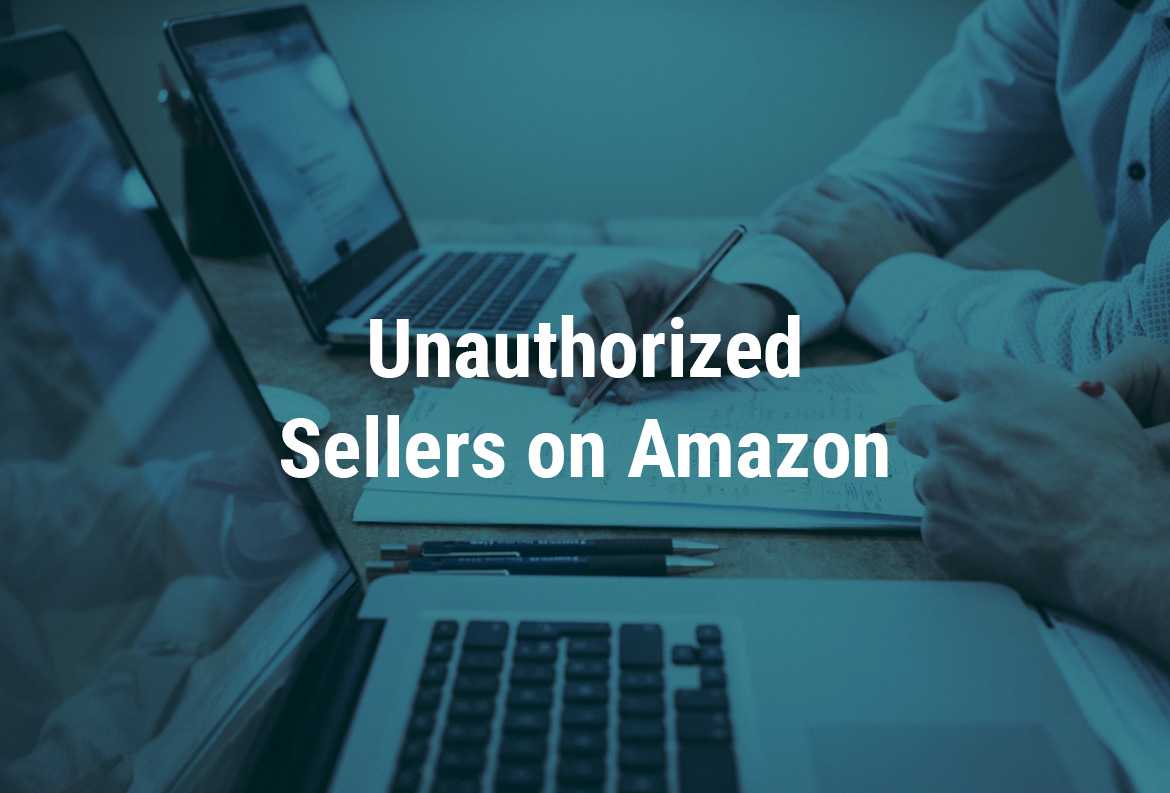 How To Deal With Unauthorized Sellers On Amazon
Amazon policy implies that product listings are usually available to all sellers who have identical products for sale. This leads to the appearance of so-called "gray'" (unfaithful) dealers, who list against the brand's product pages for profit either with counterfeit products or with original goods for lower prices (also known as MAP violators).
Unfaithful dealers can create a number of problems:
Damaging or even ruining the brand's reputation,

Upsetting the company's retail network,

Reducing profit,

Lowering sales rates, etc.

To solve the problem of unfaithful sellers, it is necessary to differentiate among the three different types of violators and develop a set of appropriate measures against each type.

Types of gray sellers and ways to stop them (counterfeit sellers / unauthorized sellers / MAP violators)

1) Counterfeit sellers – those, who sell counterfeit products from the brand's product page.

It's quite easy to find support from Amazon in your fight against counterfeit sellers, because according to the Amazon Anti-Counterfeiting policy:

"…products offered for sale on Amazon must be authentic. The sale of counterfeit products is strictly prohibited. Failure to abide by this policy may result in loss of selling privileges, funds being withheld, and destruction of inventory in our possession."

So, to stop a counterfeit seller, it's enough to make a test buy and to submit a complaint to Amazon that the product is "Not as Described." Amazon will promptly investigate and take all appropriate actions to protect customers, sellers, and rights holders against counterfeit sellers.

However, unless someone is selling counterfeit products, you won't find much support from Amazon in removing unfaithful sellers from your listings. This is why the following two types of gray dealers are much more difficult to combat if you're a legitimate seller.

2) Unauthorized sellers – those who sell original products without the manufacturer's permission.

Unauthorized sellers are not part of the manufacturer's retail network (distributors and resellers) – most often they obtained the goods dishonestly and sometimes even with a zero-dollar investment. Now they are trying to sell them online for a profit.

The problem is that Amazon doesn't view unauthorized sellers as violators (because they sell genuine products), and they do not want to get into the authorized dealer management business.

Still there are a wide range of measures that can be taken against an unauthorized seller:

Sending E-mails to the unauthorized sellers about measures to be taken against them;

Publication of the list of authorized dealers on the manufacturer's official website;

Termination of direct relations, if any, termination of shipments;

Amazon Brand Registry utilization;

Filing a complaint to Amazon about the lack of warranty;

Filing a complaint to Amazon about the lack of the right to use the trademark;

Legal action against unauthorized sellers in court.

However, unless you can prove to Amazon that the unauthorized seller is violating any of Amazon's rules and policies, it is unlikely to help you.

3) MAP violators – those authorized or unauthorized sellers who sell the manufacturer's products below MAP (Minimum Advertised Price).

MAP policy is an important part of many brands' strategy as it helps to keep resellers in line with price requirements. MAP violations act as a domino effect: one violation leads to other competitors dropping their prices so as to win sales.

There are several ways to combat map violators:

Verbal warnings;

Termination of shipments of specific models / items;

Dealer account suspension;

Dealer account termination.

Preventative measures against gray dealers

It's always easier to prevent all the three types of unfaithful sellers from appearance on Amazon, than to fight the consequences of their destructive activity.

Below is the list of preventative measures, which should be taken by every manufacturer and brand holder to protect their products on the vast Amazon marketplace:

The manufacturer needs to develop a clear price policy, according to which only authorized dealers can receive and implement any types of discounts.

Managing unauthorized sellers goes hand in hand with developing a single MAP policy.

Brands should be consistent in their struggle against MAP violators. More resources should be spent on solving the problem of MAP violations through direct contacts with violators than on tracking MAP violations. MAP monitoring can be done once a month, but all the first-time violators must be warned, and all the regular violators must be severely punished, regardless of the violator's status in the distribution network.

Registration of a legally protected trademark can also help. It's also highly recommended to develop a single policy of using trademarks and to publish it on the official website. The trademark policy should necessarily include information that only those goods, which were sold by the authorized dealers, are covered with the manufacturer's warranty.

Careful selection of authorized resellers.

Manufacturers can apply hidden or visible markers on products for further follow-up in disputable cases. (Learn more about Amazon Transparency Program).

Brand registration in the Amazon Brand Registry will help manufacturers and brand holders delegate the rights to sell goods and to change listings only to the authorized dealers. Amazon Brand Registry certifies you as the genuine brand owner.

In all kinds of disputable cases, business communication should be performed either by the manufacturer or by the authorized sellers on behalf of the manufacturer.

WebyCorp can become your trusted partner not only in

omni-channel retail,

but also in your fight against unauthorized dealers

by taking over the business communication with violators using an official brand's e-mail address (e.g. xxx@brandname.com), provided by the manufacturer for such purposes.

Possible ways to remove unauthorized dealers from Amazon

If despite all the measures taken, you're still facing the problem of unauthorized dealers on the Amazon, you may try the following:

Put a notice to the Amazon listing and to the manufacturer's website that the products sold by unauthorized dealers are non-returnable and are not covered by the manufacturer's warranty.

Publish a list of your brand's authorized dealers and all the marketplaces where your products can be sold on your official website. Clearly indicate that only authorized sellers can use your trademark for sales / advertising.

Send a notification to all unauthorized dealers with a request to stop their activity within 48 hours, because otherwise they risk to lose their accounts and all funds on them because they violate Amazon policy by at least 3 criteria:

The dealer has no permission from the manufacturer to sell the goods (the dealer is not listed among the authorized dealers on the manufacturer's website);

According to the manufacturer's policy, goods that are sold by unauthorized dealers are not covered by the manufacturer's warranty, and thus can't be considered new on Amazon.

According to Amazon itself a new product is …

"A brand-new, unused, unopened item in its original packaging, with all original packaging materials included. Original protective wrapping, if any, is intact. Original manufacturer's warranty, if any, still applies, with warranty details included in the listing comments."

Assigning the correct condition to each product is a must on Amazon. You can't sell a product without a manufacturer's warranty as a new one – it's a direct violation of Amazon Policy.

Unauthorized dealers violate the manufacturer's intellectual rights (on condition that the brand / trademark is registered). If you have registered your trademark, just gather some evidence that unauthorized sellers are using your trademark or brand name illegally while selling / advertising your products. Then you can report that the unauthorized sellers' actions are "likely to cause confusion, or to cause mistake, or to deceive" (15 USC §1114 (a) – (b)).

Report to Amazon about the violation of Amazon Policies / intellectual property rights of the manufacturer / brand holder.

If an unauthorized seller uses Fulfilled By Merchant (FBM) and not Fulfilled By Amazon (FBA), you can make a test purchase of the goods. This will only work with FBM, as you can't guarantee that the goods in question will come directly from the unauthorized seller if they use FBA.

Register your brand in the Amazon Brand Registry, delegate the right to sell goods and change listings only to Amazon authorized dealers. Send a complaint to Amazon about all the gray dealers.

Send letters addressed to the CEO of the gray company with warnings about possible measures taken. If needed, indicate your intention to sue the gray dealers which will entail huge legal costs for them.

Usually, after you have gone through the previous steps, no unauthorized dealers on your Amazon listings should remain. However, if the problem is not solved, you can consult a specialized online enforcement and policing company, which provides legal solutions to the problems caused by counterfeit and unauthorized sellers.

Being your trusted partner in retail, WebyCorp will be glad to assist you in your struggle against unauthorized sellers. Contact us for help.

We also provide a full range of Amazon Solutions your brand may be interested in.