1800GUNSANDAMMO HELPS SPONSOR 2017 MANSFIELD CARES BALL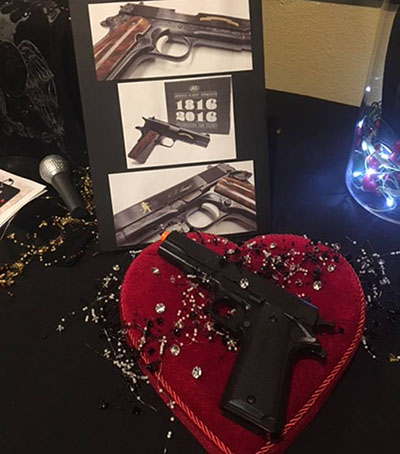 Our shop 1800GunsAndAmmo was proud to be a major sponsor of this year's Mansfield Cares Ball recently held on February 18, 2017. The Mansfield Cares volunteer organization is a non-profit group that works everyday to assist those in need in the local community. Every year, Mansfield Cares holds their biggest fundraising event, the Mansfield Cares Ball. This year marked the 18th annual Ball, and 1800GunsAndAmmo was honored to provide items for the live and silent auction as well as gift bags for all the attendees who donated to the cause. We were also live at the event this year to assist with the auction.
This year 1800GunsAndAmmo selected a Limited Edition Remington 1911 R1 Pistol for the live auction. This classic 1911 pistol design released in 2016 commemorates the 200th anniversary of the Remington Arms Company.  All of them were bid on and taken home by attendees to this year's ball.
ABOUT MANSFIELD CARES
Mansfield Cares works with several organizations to benefit people in need around the Mansfield, TX area. Their biggest partner programs include the Caring Place Clinic that provides free medical, dental and vision care to people in need and the Harvesting International Ministries Caring Center Food Bank that helps feed those in need. Other organizations include the Mansfield ISD Scholarship Program helping high school seniors attend college, the Common Ground Network that helps provide school supplies for students, the Helping Hands program that provides assistance with rent, food and medical care for families in need, the Payless Shoe Source that donates shoes to people in need, and the Common Ground Angel Tree Program that also helps families in need with free meals and food vouchers.
Mansfield Cares Ball Co-chairman Chuck Wilson commented on the privilege of working on the event:
"We saw a need 18 years ago that was not being met and we felt compelled to do something about it. The Charity Ball is our only fundraiser at the moment and it is helping people directly in our community. So, naturally, those gracious individuals and businesses that support us understand this and are definitely lead to help us our through ticket purchases, sponsorships, donations, advertising, and just volunteer time."
He went on to discuss what it means to have a local company like 1800GunsAndAmmo on board for this year's charity ball:
"1800GunsAndAmmo is a key component to the Mansfield Cares Charity Ball because the company represents the kind of businesses in the community that care about giving back. Without companies like 1800GunsAndAmmo sponsoring the Charity Ball, we could not possibly raise enough funds to do much good in the community. Any person or business can be an advocate for a non-profit organization, but to actually participate with and for a non-profit is going above and beyond. It is more than a commitment, it is action. For the past several years, 1800GunsAndAmmo has given without hesitation and has been an advocate for what Mansfield Cares is trying to accomplish by committing support through its own staff and products."